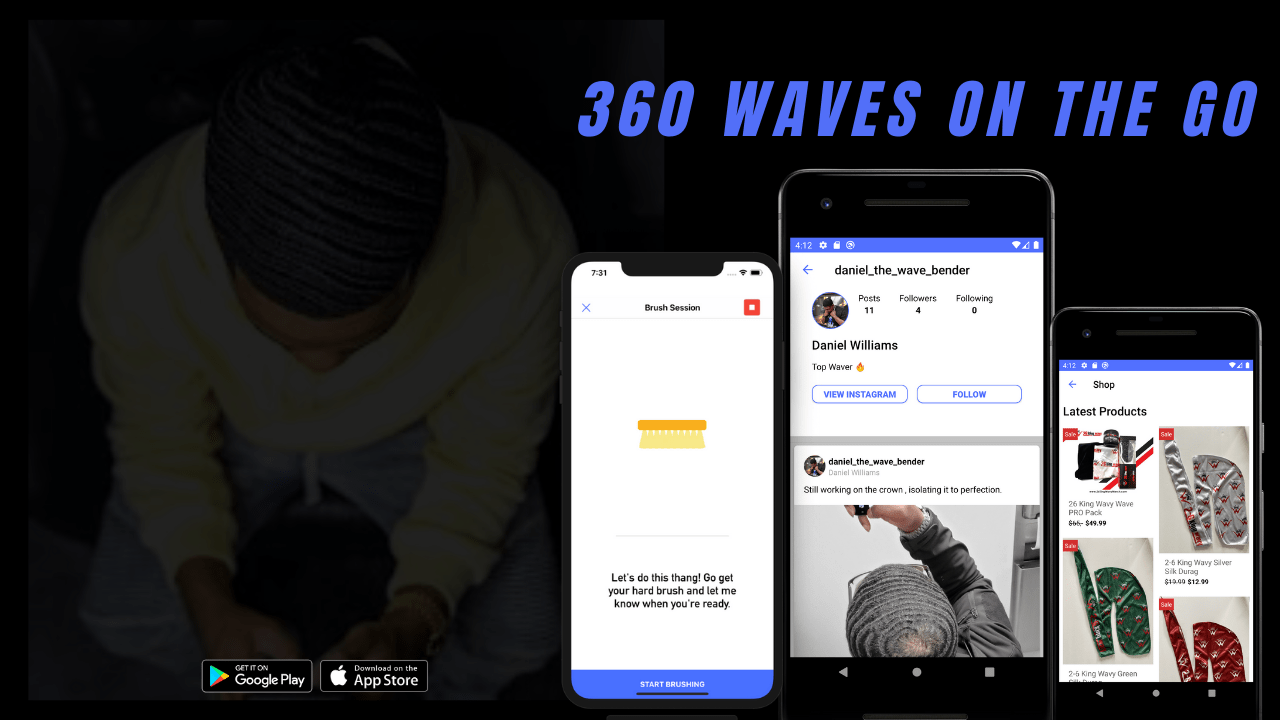 EveryWaver is the exclusive mobile app for 360 waves and natural hair styles. Not only is it a superior resource for 360 waves tips, it's also a competitive waver's tool and community for bettering themselves as a waver and obtaining outstanding hair health!
360 Waves Videos
IG @everywaver
Shop EveryWaver Merch
360 Waves on the go
EveryWaver is the exclusive app for natural hair featuring community and tools for waves, braids, fades, locs, curls, and more!
From waves, to braids, to fades, and everything in between, the EveryWaver App is your one stop shop for everything related to your natural hair. Slam packed with natural hair care content and tools, you'll be silky in no time.
The EveryWaver app has everything you care about for your 360 waves, dreadlocks, barbershop, or natural curly hair from curly hair tips to the latest happenings and stories from the top black hair blogs from around the world.
Features:
Social Networking – Create your free profile to post photos of your natural hair and get feedback from other members!
Studio – Add some swag to your wave photos with exclusive waver stickers and photo editor.
Brush Session Tool – Whether you want to hit an hour session or a 15 minute quickie, the brush session tool has you covered. The first of it's kind for a mobile app, the 360 waves brush session tool walks you through a timed set of instructions or "steps" to follow in order to properly brush your hair to achieve waves. Follow the directions as you see them on the screen, brush your hair, and you're on your way to elite waver status. If you leave the app during a brush session, EveryWaver will even remind you to continue brushing.
Hair Journey – Keep track of your hair journey from start to finish. As a waver, sometimes it's hard to remember how long we've been wolfing waves or when the last time we got a shape up. The hair journey feature allows you to easily keep track of "events" throughout your black hair journey including brush sessions, getting haircuts, hair growth and when to wear a durag.
Articles – Read the latest in black hair news, product reviews, wave checks and more via exclusive content from everywaver.com. Our blog is up and coming in the hair care game and features only high quality content. Get the scoop on the latest 360 waves brushes, hairstyles for black men, black women hair, weave, silky durags, 360 wave products, natural hair products, and more!
Videos – Watch and learn from the best. Our videos sections features only top quality videos of wave checks, haircuts, curly hair care, product reviews and more! Even if you aren't into waves, you can find other videos related to natural hair, learn how to start dreads on your loc journey, natural curly hair care, hair styles for black men, hair cuts and barber videos, and more! Our content is updated daily, so you'll never see the same stuff over and over. We keep it fresher than a crisp line up on a Saturday morning.
Elite Influencer Videos – High quality videos from some of the best wavers in the game including 360 Jeezy, 360 Wave Process, Thebaldiebabe, PB The Goat and Sir Cruse. Also featuring content from some of the top black hair blogs for black women hairstyles and hair styles for black girls!
EveryWaver Shop – Browse our growing selection of hair care products and merch from some of our partners. You can find hair moisturizers, durags, wave brushes, and more!