Number 5 Haircut: Length, Styles and Best Options in 2023
We may earn money or products from the companies mentioned in this post.
Are you looking for a trendy and low-maintenance hairstyle that will take your look to the next level?
Then it would be best if you choose the number 5 haircut!
This classic and timeless style has been around for many years and is still popular due to its low-maintenance and powerful look.
In this blog post, I'll explore why the number 5 cut is a perfect choice and how you can get this sharp look for yourself.
So if you need a fresh look, keep reading to find out why the number 5 is the answer!
How does a number 5 haircut look?

These pictures can tell you at a glance what this perfect haircut looks like!
Number 5 is technically a buzz cut, as all hair is the same length. However, most people consider it a different haircut as it gives longer hair than the classic buzz cuts with shorter lengths.
The distinguishing features of this cut are:
Equal hair length throughout.
Low maintenance.
Suitable for round faces.
This buzz cut imparts a neat look with shorter-length, same-length hair that makes a powerful impact. It gives you a confident air and lets everyone know you mean business!
One of the great benefits of getting this haircut is that it is effortless to carry. Whether you're looking for a sleek, modern look or something more laid back, the number 5 can accommodate both.
You can look stylish with minimal effort, making it perfect for those who don't have much time to spend on their hair.
What length is the number 5 haircut?
Clipper guards with different haircut numbers result in different haircut lengths.
For this haircut, a number 5 clipper guard is used to cut hair to a length of a little more than half an inch (16mm). To be precise, it is 5/8 of an inch in length.


When getting the perfect Number 5 haircut, understanding which clipper numbers are used is essential.
Depending on the look you are aiming for, your barber may use different clipper sizes when trimming your hair.
Ask him to use the Number 5 and Number 4 guards to give the hair a nice fade. It helps to create a more modern, stylish look tailored to individual preferences.
What are the hair clipper sizes?
There are various haircut guard numbers, and the size you need depends on the length and thickness of your hair.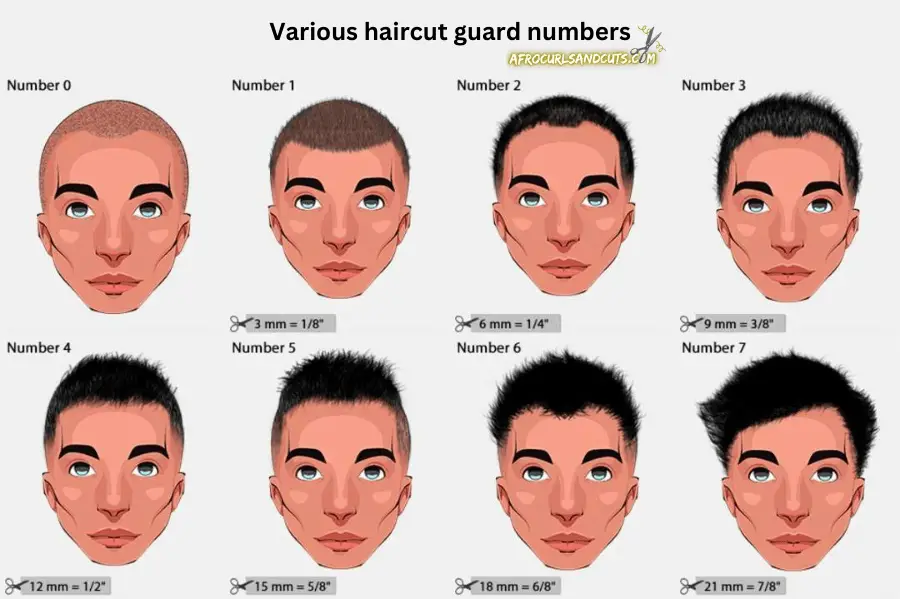 The different clipper guard sizes may also depend on the brand, so as best practice, ask your barber which ones they are using. However, typically the hair clipper size numbers used are:

As you can see from the image above, clipper guard number greatly vary in length. It is important to understand the size you need when getting a number 5 haircut.
The different haircut numbers variations
The number 5 is a short-length haircut with all hair clipped close to the scalp with clippers set at number 5. The result is a closely shaved style with no scope for styling once the cut is done.
However, you can choose to go for variations when sitting on the barber's high chair!
If you don't want a complete all-over #5 classic buzzcut, choose a partial taper styling number 5 cut instead. Let's see how you can use these variations to your maximum advantage.
Number 5 haircut with a fade
Number 5 pairs perfectly with a fade haircut. If you want a low fade that is not so obvious, ask for a fade with hair clipper sizes #2 or #3, but a fade with skin showing makes a bolder statement.
Ask your hairstylist to shave down to your skin for a more striking look. Skin fade will draw more attention as the contrast between the number 5 top, and the shaved bottom is more eye-catching.
And to make the variation further interesting, you can choose between low, medium-length, and high-fade haircuts!
Number 5 haircut on the sides
With #5 on the sides, this cut is not your typical crew cut, as the top length can be very long, and there is less show of skin on the sides.
This variation has more styling freedom as the sides are cut to number 5 length while the top hair is left longer, so you can style it in several different ways.
Remember, you don't have to go from number five cut at the sides and suddenly to a longer length at the top. Therefore, a tapered styling with a gradual increase in hair length from bottom to top is preferred.
Number 5 haircut with a beard
It isn't a variation of the number 5 style but sporting different beard styles with this neat cut can give your overall look an instant uplift.
Ask your stylist which beard shape goes well with your face shape; however, a classic full beard is the best option for most face shapes.
How to get the perfect number 5 haircut?
For achieving the perfect number 5 haircut, it's crucial to choose a professional barber or stylist who knows what they're doing.
They should be familiar with all the different clipper attachments and how to use them correctly to get the exact length you're looking for.
Before your appointment, make sure to bring in a photo of the type of number 5 haircut you want. It will give most barbers an idea of the exact look you're going for and allow them to create the perfect cut for you.
To get the perfect DIY look, here's how to style the number five haircut:
Get your clippers and hair clipper guards ready, and start by washing your hair with a good shampoo and conditioner formulated for your hair type.
Towel-dry your hair and comb it out using a wide-tooth comb to ensure it is tangle free.
Use a clipper set to trim your hair to the desired length. For a traditional number 5 cut, use a #5 clipper size.
When you start trimming, cut it shorter if you have long hair, so clipping is easier. Once you have the desired length, start clipping the sides and then move to the top. Go against the hair grain, as it will help add texture and body to your style.
Lastly, trim the back hair. It's better to take help for this part, as cutting hair by yourself at the back might be tricky.
Finish off your style with a styling product like mousse or gel to keep your hair neat throughout the day.
Whether looking for a classic look or something more modern and edgy, the number 5 haircut is perfect for any style. With a few simple steps and practice, you can master this timeless look in no time!

If you are interested in giving yourself a number 5 haircut at home, check out this video:
Can anyone rock the number 5 hairstyle?
I have seen men with different facial features and hair types sporting number 5 cuts, each making a unique style statement.
So, if you have any hesitation regarding how this cut will look on you, go and try it out, as you never know until you try it!
For rounder faces, go for a number 2 cut on the sides and a number 4 at the top. It will give the face a more angular and structured appearance.
As for the hair type, this cut works best on thick hair, but it can also be styled to accommodate those with thinning hair or finer strands.
Those with wavy or curly hair can also get a lot of mileage out of this haircut, as it can create a flattering yet unique look.
What do numbers mean on hair clippers?
Hair clipper numbers refer to the length of the hair that will be left after a haircut.
Each number correlates to a specific length (measured in millimeters), and each hair length creates a different look.
For example, a number 1 haircut leaves just 1/8 of an inch of hair, while a Number 5 leaves 5/8 of an inch.

What is the longest haircut number?
Hair clipper sizes range from 0-8, and the hair length increase as you move up the number scale.
Number 0 gives a shaved head, while number 8 is the longest hair clipper size that gives hair a one-inch length.
Takeaway: The Number 5 Haircut is an incredibly versatile style that looks great on almost any face shape and hair type. Men with thin hair can use this haircut to cover their receding hair efficiently.
Whether you want something edgy and modern or something more subtle and classic, this cut will give you a perfect look!
If you found value and enjoyed this article, please like, share, and subscribe to AfroCurlsandCuts.com!
Don't forget to check out our social media accounts as well.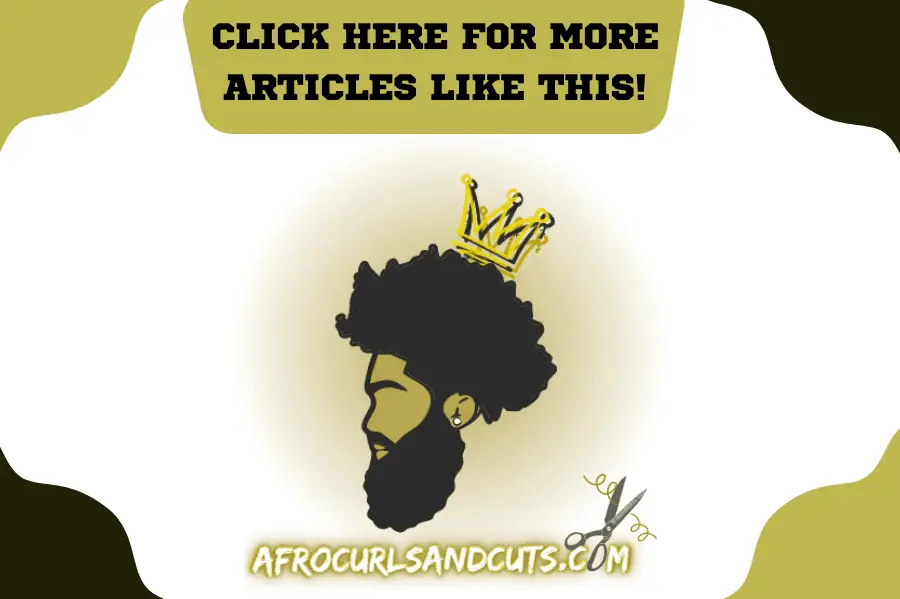 Newsletter
Sign up for Afrocurlsandcuts.com newsletter to be first notified of events, promotions and most importantly fresh blogs articles!