Stylist Certified: 10 Best Hair Dryers for Thick Hair in 2023
We may earn money or products from the companies mentioned in this post.

Overview
This article contains information about the 10 best hair dryers for thick hair and how to select the best one for your needs.
Thick hair is most challenging to style, so finding the best hair dryer is essential!
I have been blessed with thick curly hair, so I know the drill.
Drying and styling my hair takes a good chunk of my precious morning time.
However, I have realized over the years that having a great hair dryer makes the process enjoyable and worthwhile as you know, you will be happy to see smooth and shiny hair that you can flaunt with pride!
But how to get that perfect piece of equipment when every brand in the market claims to be the best?
Don't worry; your work is half-done! I have researched hard so you can easily pick the best hair dryer depending on your hair type and styling needs!
I've rounded up the top 10 best hair dryers that will make styling your thick hair a breeze.
10 Best Blow Dryer for Thick Hair
If you are in a rush and can not read the full article, here is the full list of the 10 best hair dryers that work best for thick hair:
Ten Best Hairdryer for Thick Hair
Here a detailed look at all 10 of the best hair dryers that will help you dry and style your thick hair quickly and easily.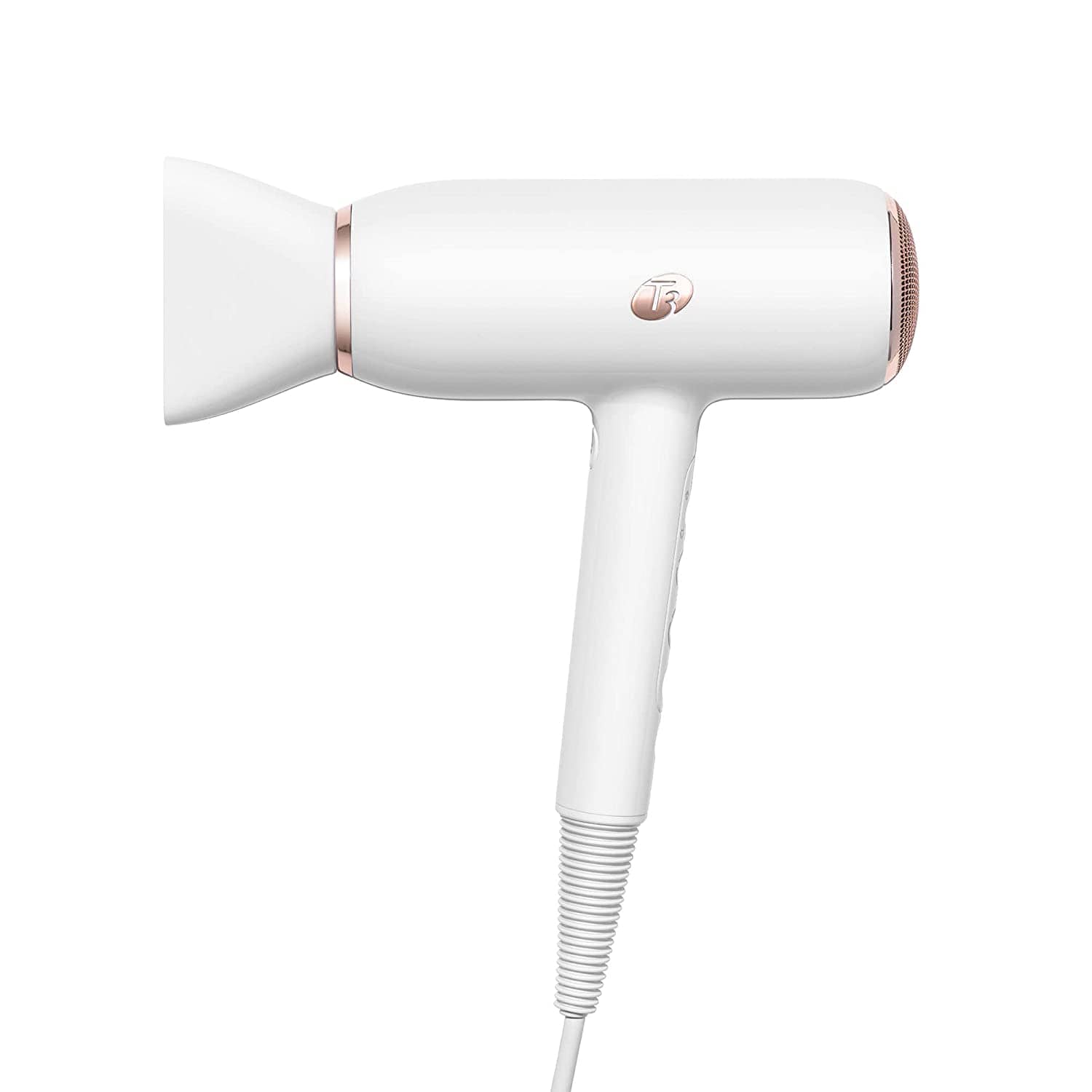 If you're looking for a robust and reliable blow dryer for thick frizzy hair, grab this one right now!
Its ion generation technology reduces static electricity, while ionic conditioning makes hair shiny and smooth.
A custom-designed fan provides powerful airflow, giving you fast drying times and salon-quality results.
An excellent product for managing thicker hair efficiently! You will not have any problems blow-drying your hair at home.

Features
T3 StylePlus Technology.

5 Heat and 3 Speed settings.

Additionally, Ceramic Tourmaline technology is used to reduce frizz, keep elasticity and promote hair healthy.

T3 Digital IonAir Technology for an ion-infused airstream.

Volume Boost Switch for improving texture and volume.

Lock-in Cool Shot for a smooth, sleek finish.

Ergonomic design for easy drying and styling.
Pros
Fast drying.

No static while drying hair.

Hair completely dry and voluminous in less time.

Reduces frizz, smooth hair, and adds shine.

Cool shot button.

Multiple modes.

Lightweight.
Cons
No additional attachments.
Here's an article you may also be interested in Stylist Choice: 7 Best Hair Straighteners for Curly Hair.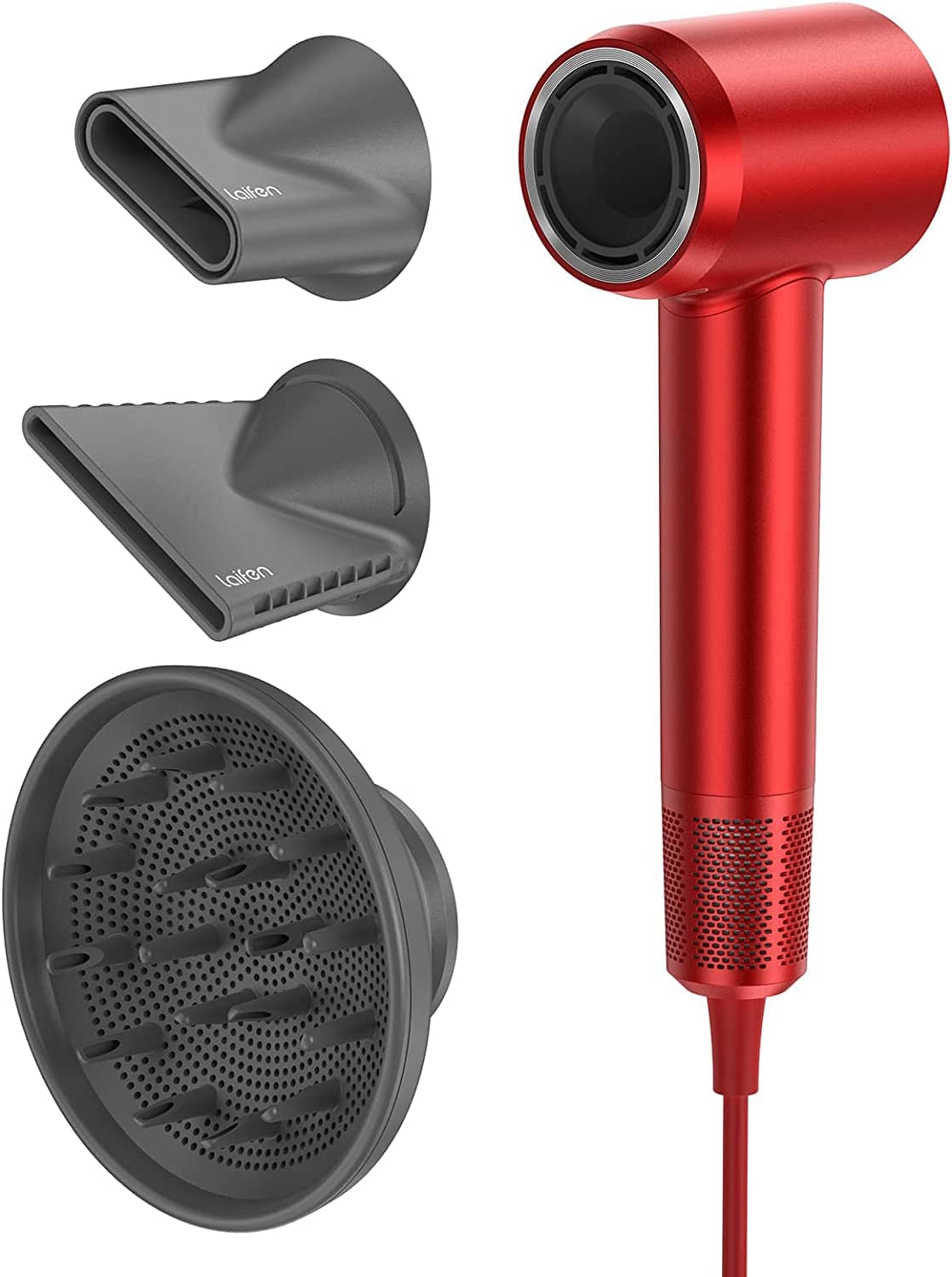 I would highly recommend this one of the best ionic hair dryers! Its high-speed brushless motor with strong airflow can dry hair 2x faster than a regular dryer.
Intelligent constant temperature prevents hair damage by reducing the scalp's sense of heat.
This professional-grade dryer has a powerful 1400-watt motor that can easily tame thick and curly hair. Its narrow concentrator nozzle is perfect for precision styling thick and unruly hair. If you are looking for hair tools that can dry quickly and precisely, this is the right blow dryer.
Features
Introduces 200 million negative ions to lock in moisture and control frizz.

Thermo-control microprocessor prevents hair damage from excessive heat.

Three-color LED ring light.

Security granite for overcurrent protection.

Magnetic filter that doesn't suck hair.
Pros
Speedy drying.

Sleek and compact design.

Offers precise styling.

3 styling attachments.

Safe for kids and pregnant moms.
Cons
The diffuser falls off easily.

The Dyson Supersonic Hair Dryer is among the best blow dryers for thick hair.
Its powerful digital motor offers a solid airflow to quickly and effectively dry your thick hair.
It features three precise speed settings, including the cool shot button to set your style.
It also has four adjustable heat settings to customize it to the highest temperature for your hair type.


Professional stylists recommend it for curly coarse hair. So, no more bad hair days for you!
Features
1600 watts powerful dryer for ultra-fast drying.

Hair shield technology to preserve hair's natural shine.

Cool shot button and ion technology.

Acoustically tuned to reduce noise.

Balanced design with the motor placed in the handle.
Pros
5 magnetic styling attachments.

Dries thick hair faster.

Protects hair from overheating.

Generous cord length.
Cons
Some hair types can experience dryness.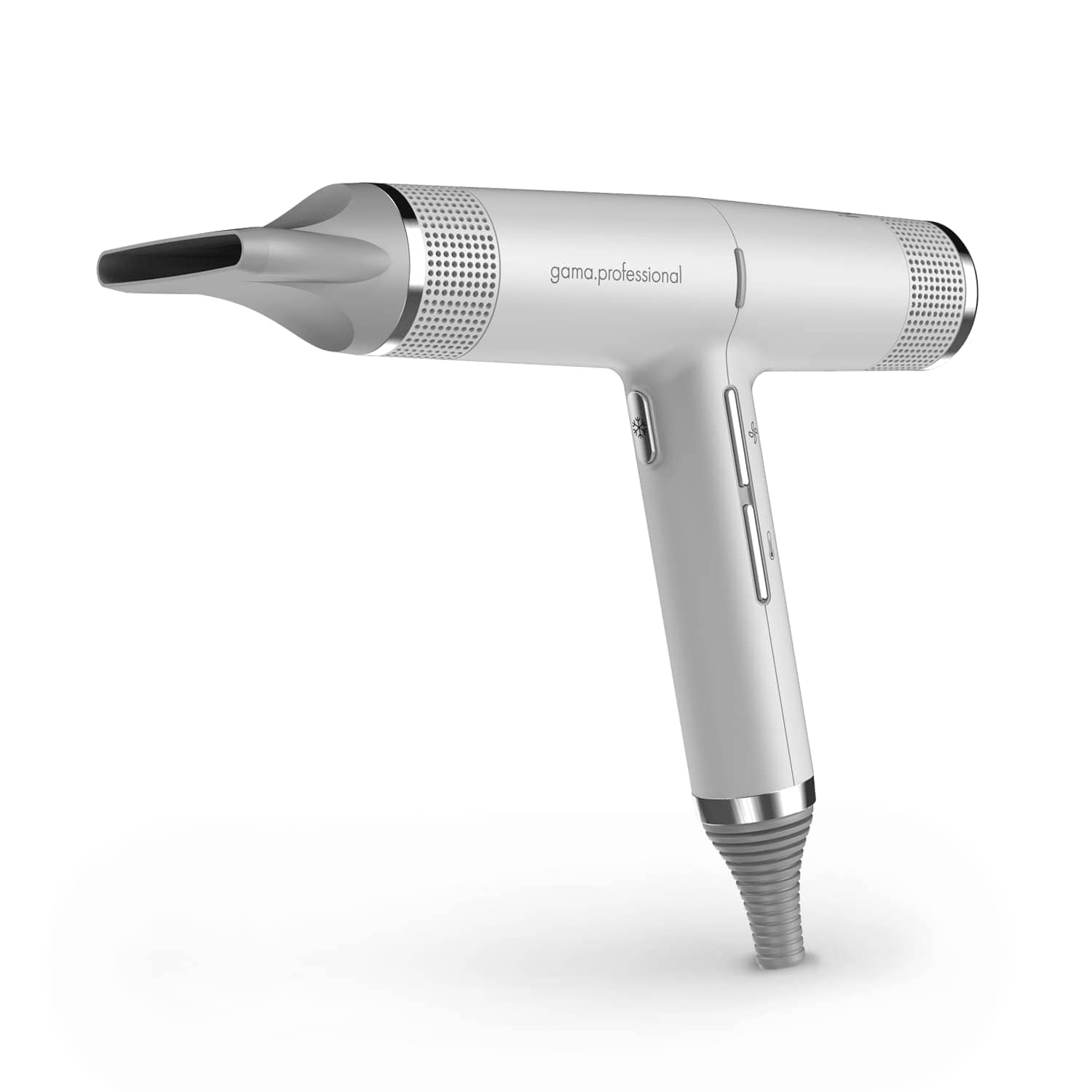 Looks and performance: a killer combination! With its sleek look and pioneering design, IQ Perfecto dries hair seven times faster than regular hairdryers.

This powerful dryer features a powerful 1700-watt brushless motor and four speeds, making it perfect for various styling needs.
The nozzle is also adjustable, allowing you to direct airflow for optimal styling.
The lightweight design makes it comfortable to hold and use for extended periods.


Features
Ergonomic design with Oxy Active technology.

Auto-clean technology keeps the filter clean and multiplies airflow.

The memory configuration function prevents accidental changes when in use.

An innovative micro filter prevents hair from getting caught.

Auto diagnosis system for finding operational issues.
Pros
Dries thick, curly hair in a blink.

Easy to hold and lightweight.

With multiple heat and speed settings, you can easily tailor this lightweight dryer to fit your needs.

Strong airflow.

Equipped with 1 diffuser and 2 concentrator nozzles.

Has a one-year factory warranty.
Cons
 The warranty information is hard to find and confusing.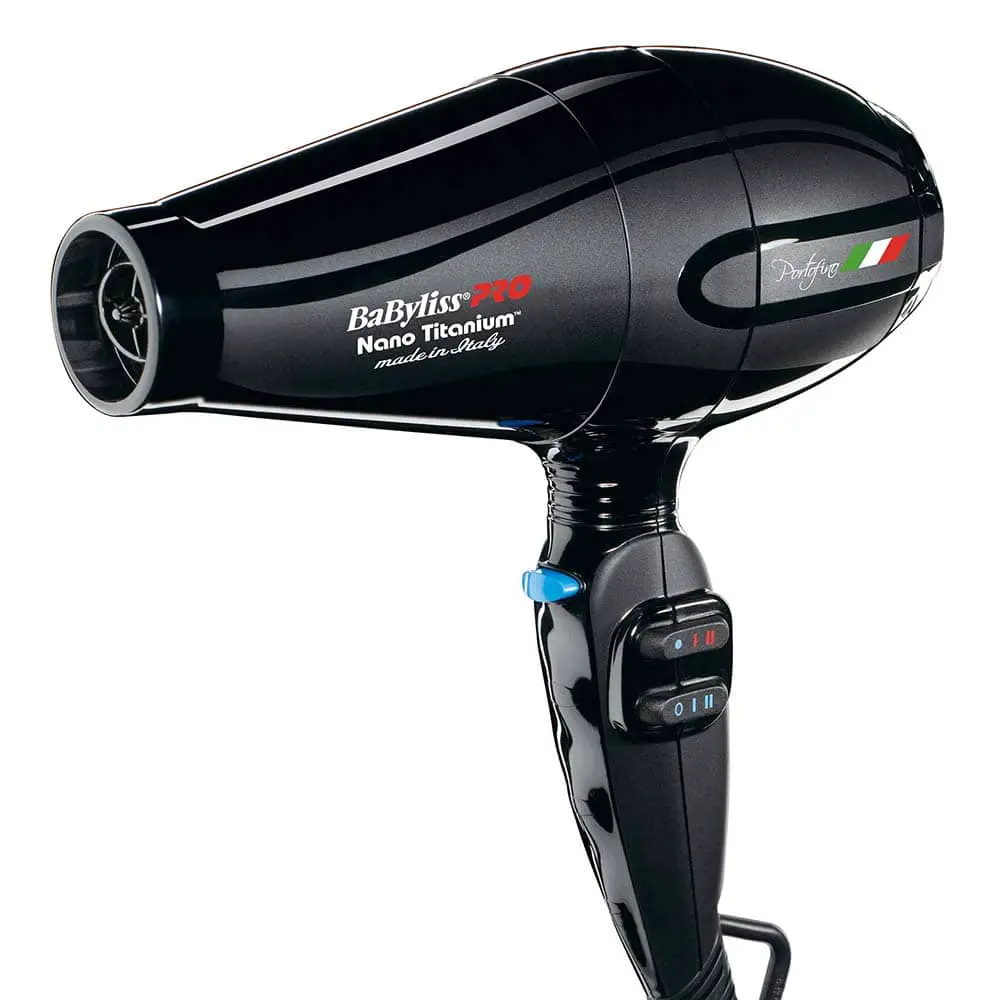 Nothing beats this model if you are looking for a blow dryer with easy-to-use buttons and attachments!
You'll also be happy with its strong airflow. It also features an ionic technology that helps to seal the cuticles and smooth the hair, leaving you with soft and shiny locks.
The only downside I could find with this model is its bulkiness, but it is still user-friendly and not bad-looking either!
Features
2000 watts powerful motor for exceptional performance.
Nano Titanium technology for even heat distribution resulting in shiny hair.

Removable filter for easy cleaning.

Thick and durable cord for better safety.
Pros
Professional results at home.

Easy to use.

Powerful airflow.

Quality build.
Cons
No attachments are included.

A little bulky.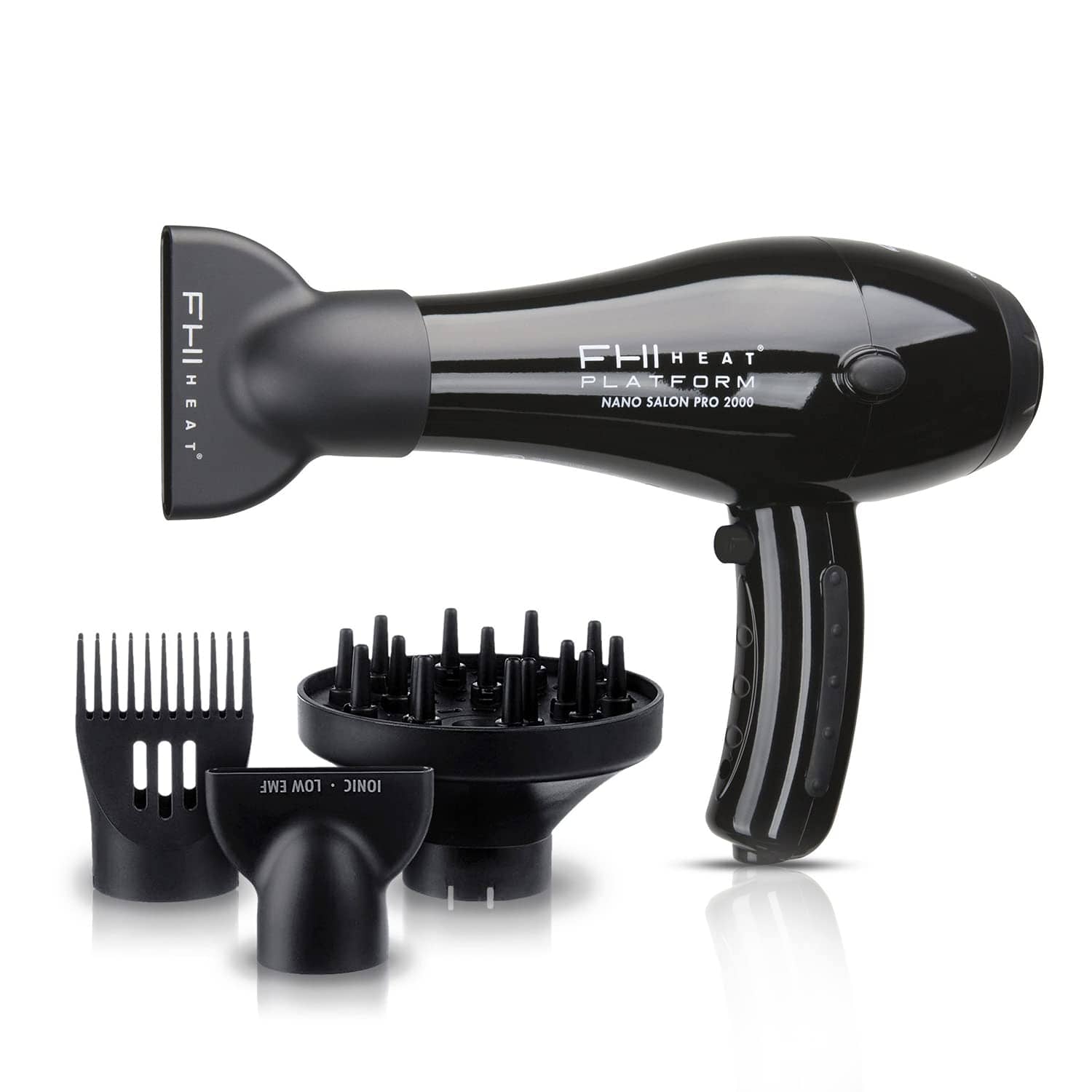 The truth is that nobody wants to spend too much time on hair drying as hot tools can damage hair quickly.
However, the ceramic-coated plates on this hair dryer are nano-sized, meaning they are more efficient and heat more evenly than traditional dryers.

The result is faster drying time, less frizz, and smoother hair without harming your hair.
It also has an ergonomic handle for better control and a 12-foot power cord for added convenience.
Features
High-velocity AC motor for 50% faster drying.

Tourmaline ceramic technology for even heat distribution and lock-in moisture.

Negative ions reduce frizz and prevent static.

Three heat settings and two air settings to adjust according to your hair type.

Include a speed-dry nozzle and straightening comb in a tote bag.
Pros
Smooth and shiny hair in less time.

Easy setting.

Salon-grade blow dryer.

Protection from heat damage.

Extra long cord for convenience.
Cons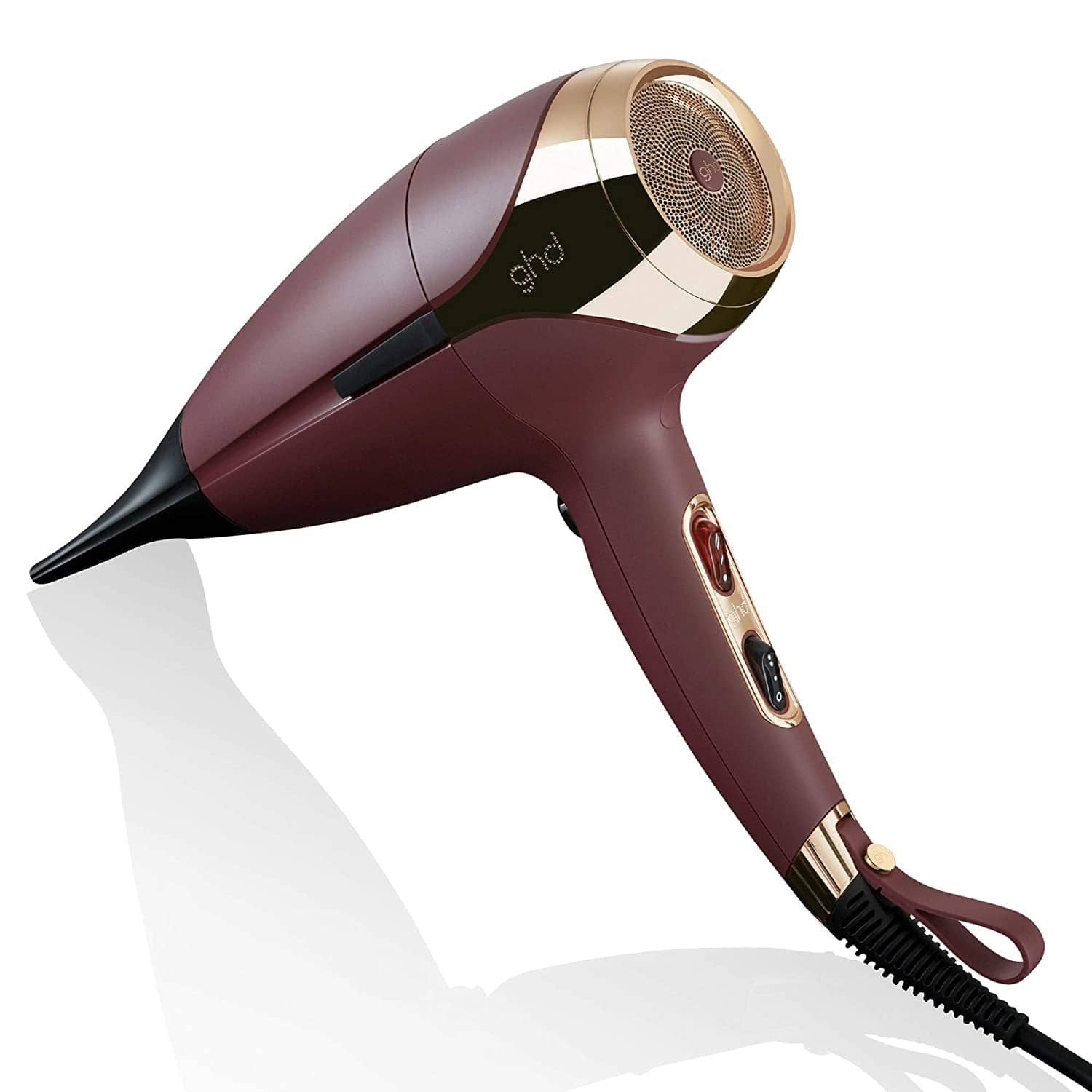 Sometimes brand name is enough to convince you about a product!
You can cut your drying time drastically with ghd's powerful brushless DC motor.
An excellent investment for salons and professionals but equally great if you are upgrading your hair dryer after 10 years!
While conventional hair dryers can help you dry your hair, the ghd Helios will do the job brilliantly, adding 30% more shine for a healthier look.
Use it with a ghd paddle brush and heat protectant spray for a salon-like finish for thick coarse hair.
Features
120 kmph airflow for a faster and more professional performance.

Aerodynamic technology for more precision styling.

Variable power and heat controls, including a cool shot.

Bespoke acoustic system for minimal noise.
Pros
Long-lasting durability.

Balanced design for ease of use.

Sleek design.

Lightweight.

3 maters professional length cable.
Cons
Some customers complain about the ionic dryer needing to be hotter.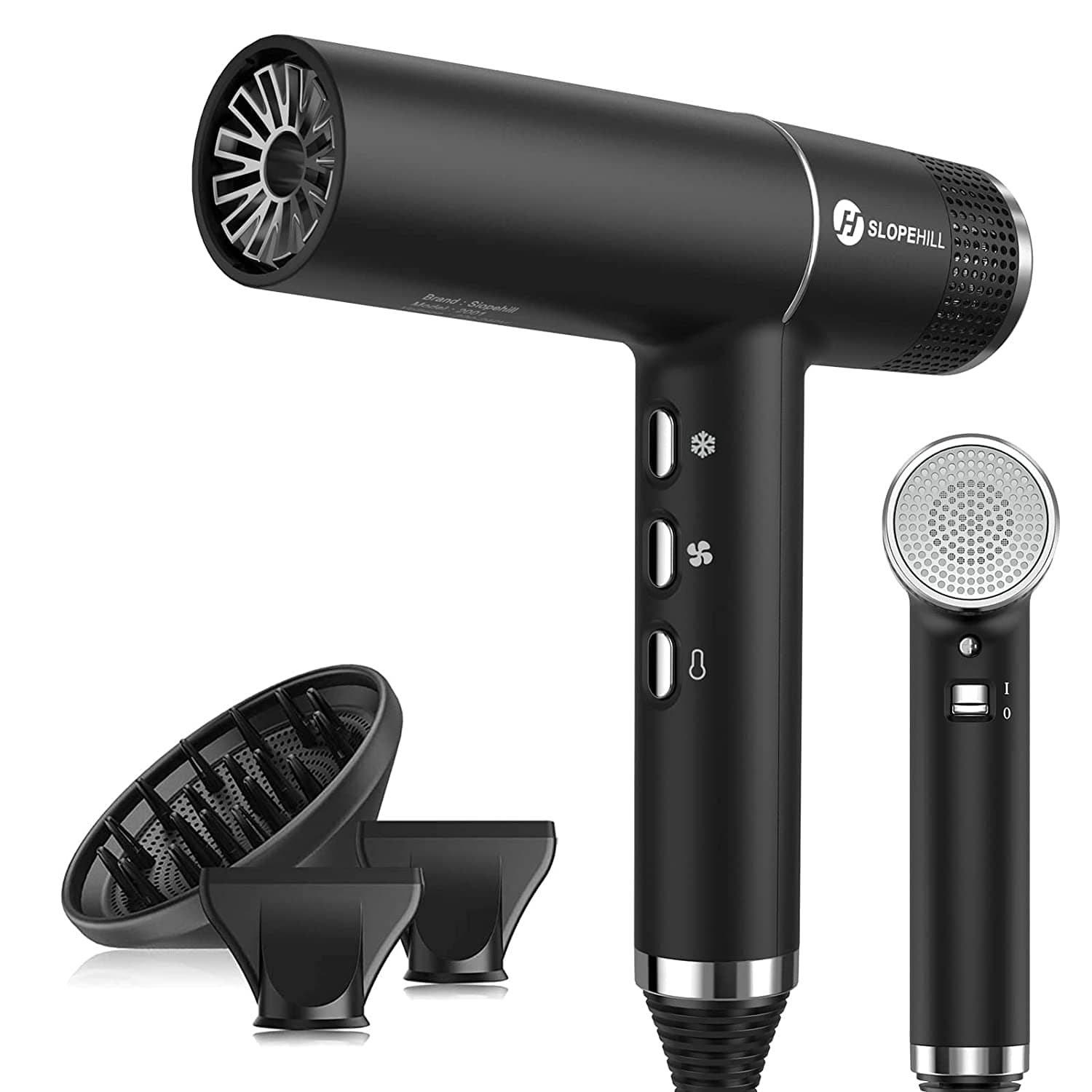 Don't have enough time to spend on hair grooming your wavy hair?

This hair dryer for thick hair can get the job done quickly and efficiently!
Aircraft turbine engine modeling provides a strong airflow that dries hair faster. With a constant temperature hair care system, you can blow dry your hair confidently.
It monitors the air outlet temperature frequently, at least 50 times per second, and adjusts the temperature accordingly to prevent heat damage.
Features
Brushless motor with aircraft turbine engine shape for powerful airflow.

Sinking model inlet design with balanced handle for user convenience.

Built-in temperature sensors and microprocessors to protect hair from heat exposure.

IQ Perfect technology to find any operating issues.

Ion emission system to introduce 50 million negative ions to prevent hair static.
Pros
Powerful motor.

Lightweight.

Ergonomic design.

Auto clean micro filter.

Intelligent temperature control.
Cons
Some users found problems with heat settings.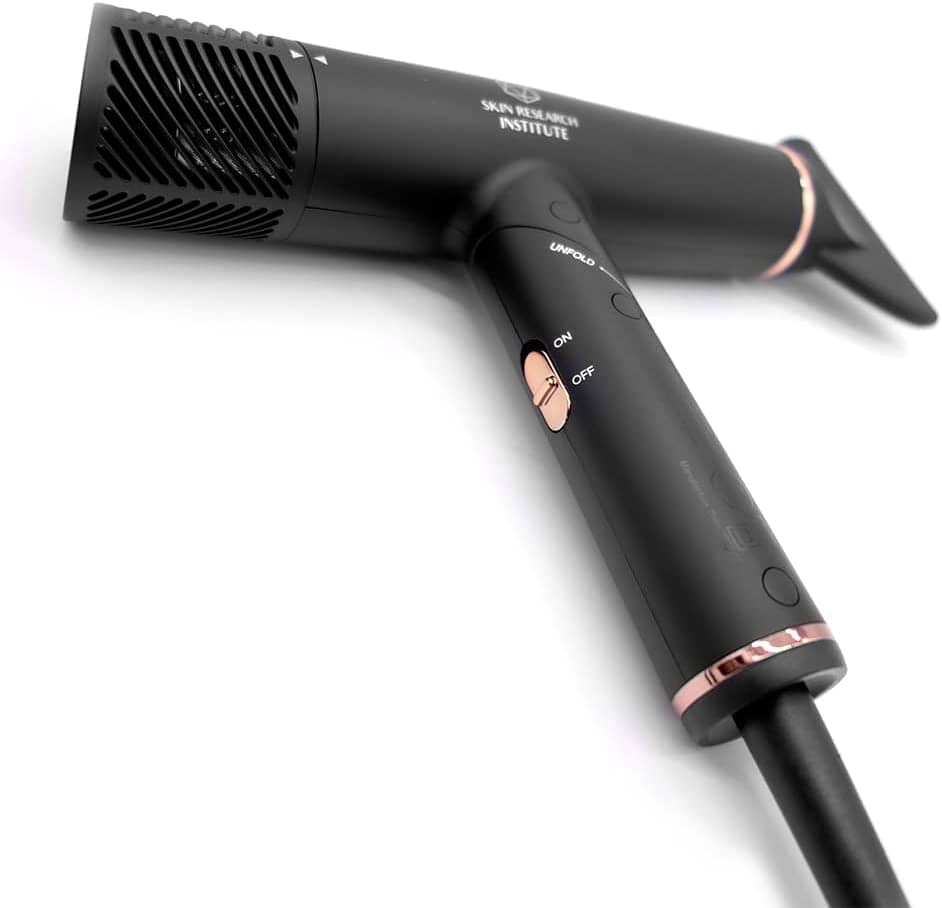 I always look for a lightweight, foldable hair dryer I can conveniently pack in my luggage.
It's a must-have for frequent travelers, so don't miss the chance to buy one that works exceptionally well too!
Sri DryQ has intelligent styling features such as infrared (red light) and negative ion technology. Red light technology promotes healthier, thicker hair by stimulating scalp circulation.
So, now you can have beautiful and healthy hair through blow drying!
Is your hair unhealthy? Read Keratin improvement Tip for damaged hair.
Features
Intelligent heat control dries hair faster.

Negative ions for frizz-free and shiny hair.

4 modes for different styling needs.

3 speeds with a memory function.

Red light therapy to strengthen weak hair.
Pros
Dries hair faster.

No hair damage.

Promotes healthier hair.

Portable design.

Money-back guarantee.
Cons
The magnet for the attachments may weaken over time, and attachments may fall off.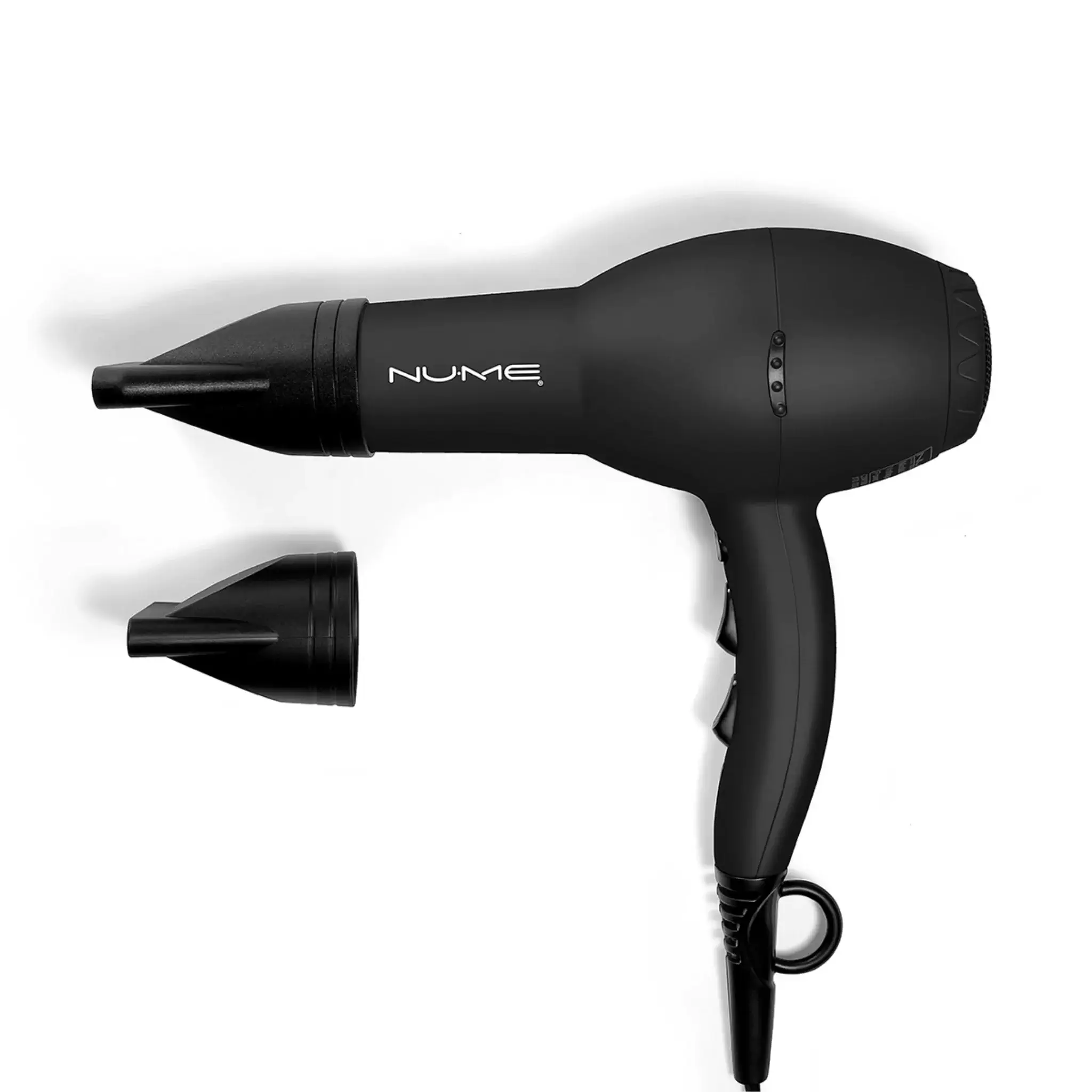 Styling your hair should be a fuss-free thing. NuMe hair dryer allows you to get effortless looks with fast and consistent heat distribution.
Negative ion conditioning technology allows you to get salon-grade styling curls while sitting in the comfort of your home.
Here's an article you may also be interested in 5 Best Interchangeable Curling Irons for Coarse Hair.
Features
A proprietary combination of materials and components.

Negative ion technology eliminates static for a frizz-free, smooth finish.

I-year warranty.
Pros
Decreased drying time.

Less frizz.

Lightweight.

Salon finish.
Cons
"If you have thick hair, blow drying is essential to create volume and texture. With the right technique, a blow dry can be a powerful way to tame your 'mane' and keep your style looking great all day."
Things You Must Consider When Buying A Hair Dryer For Thick Hair
Finding a hair dryer that works with your hair type can be daunting if you have thick hair cuticles. But don't worry – I've got you covered! 
Here are some vital features you need to consider when purchasing a hair dryer for thick hair. 
The Power of the Motor
Motor power is measured in Watts, with a higher wattage providing more powerful performance. The motor power affects the dryer's airspeed and temperature.
Higher wattage will give you more drying power and faster results, but too much power can damage your hair. Most hair dryers range from 1500 to 2000 watts.
For thick hair, it is best to look for a dryer with a motor that produces at least 1800 Watts of power with an adjustable heat setting that ranges from low to high. 
Heating Time and Temperature
For thick hair, you will need a higher temperature and faster heating time to dry your hair effectively.
The time it takes for a hairdryer to reach the desired temperature should be as short as possible, as this can make all the difference when styling your hair. 
Most high-end hair-drying tools offer two or more temperature settings, allowing you to choose the best setting for your hair texture.
Additionally, some hair dryers feature turbo settings which provide a more powerful airflow and greater heat concentration, making it easier to dry thicker hair in less time.
Ionic vs ceramic technology – Is ceramic or ionic hair dryer better?
Ionic technology produces negative ions, which help reduce frizz and static in the hair. 
Ionic technology is often compared to ceramic technology, another common feature in hair dryers.
Ceramic technology produces infrared heat that penetrates the hair shaft and dries it from within. It helps to dry the hair evenly and protect against damage.
Both ionic and ceramic technologies are beneficial for thick hair.
However, some people find that ionic technology is better at taming frizz and static, while ceramic technology provides even heat.
Ultimately, the best choice depends on your individual needs and preferences.
You may also be interested in 5 Best Anti-frizz treatments for Damaged hair.
Weight and Ergonomics
Drying thick hair can take longer, so choose a lightweight hair dryer that won't tire out your arms. Look for a comfortable grip that won't slip or cause strain.
Many models come with ergonomic designs that allow you to hold them differently for better control and less stress on your arms.
Some feature a rotating handle that can be set in multiple positions for better access.
Cool shot button
The cool shot button is an important feature to look out for when buying a hair dryer for thick hair.
This button allows you to seal in your style with a blast of cool air that helps hold your look.
It's vital for thick hair, as the cool air helps prevent it from becoming too frizzy.
Additionally, the cool shot button can help reduce heat damage and maintain the overall health of your hair.
Diffusers
When shopping for a hair dryer for thick hair, diffusers are an essential feature to consider.
Diffusers help to disperse the hot air from the hair dryer over a larger area, which helps to reduce frizz and keep your curls looking their best.
When choosing a hair dryer with a diffuser attachment, check the opening size to ensure it fits your desired styling needs. 
You may also be interested in Diffuse Curly Hair: Get Insane Curls In Minutes.
Why is a professional hair dryer more expensive?
One of the main reasons professional hair dryers are more expensive is that they're built to handle all types of hair.
They blow dry damp, or wet hair quickly and evenly, helping to reduce heat damage.
Professional hair dryers are also often made with higher-quality materials that last longer.
They have more power, higher speeds, and multiple heat settings than most consumer-grade dryers, which means they can finish the job in less time.
They also come with various attachments that allow you to customize your styling.
These features contribute to their higher price tag, but they're worth it if you want salon-quality results at home.
Will strong hair dryers damage fine hair cuticle?
Yes, strong hair dryers can damage the cuticle of fine hair. The heat from the dryer can cause the cuticle to become dry, brittle, and prone to breakage.
To protect your hair, try using a lower heat setting on your hair dryer, and make sure to use a product like a heat protectant spray.
This will help to coat your hair with a layer of protection that will help to prevent damage.
How do you blow dry long thick hair?
When Blow drying long thick hair, it's important to start at the hair roots and move downwards.
Use a nozzle attachment, which helps to direct the flow of air in one direction. This will help you control frizz more easily.
Additionally, be sure to blow dry down the hair strands in the direction that it grows – not up! If you blow dry up, it can rough up the cuticle and cause frizz.
For extra protection, use a thermal protectant spray before drying your hair.
This will help reduce heat damage and keep your hair healthy and shiny! Finally, finish off with a blast of cool air from the cool shot button to seal in your style.
There you have it – With a bit of knowledge and the right tools, you'll be able to get salon-worthy results from home!
Do you want longer hair? Read Biotin results after one week: Shocking results!
Here is a quick video to help you out:
https://www.youtube.com/watch?v=BObXvFoa7EY
Final Thoughts about The Best Hair Dryers for Thick Hair
When buying a hair dryer for your thick locks, choose one with the right power, speed, and technology combination.
The ten products featured in this blog post all have these qualities and are among the best hair dryers for thick hair.
Whether you are looking for a professional-level dryer or something more affordable, there is a product in this round-up that will meet your needs.
Do let us know in the comments which one you finally chose and how it has made your life easier and your hair prettier!
If you found value and enjoyed this article, please like, share, and subscribe to AfroCurlsandCuts.com!
Don't forget to check out our social media accounts as well.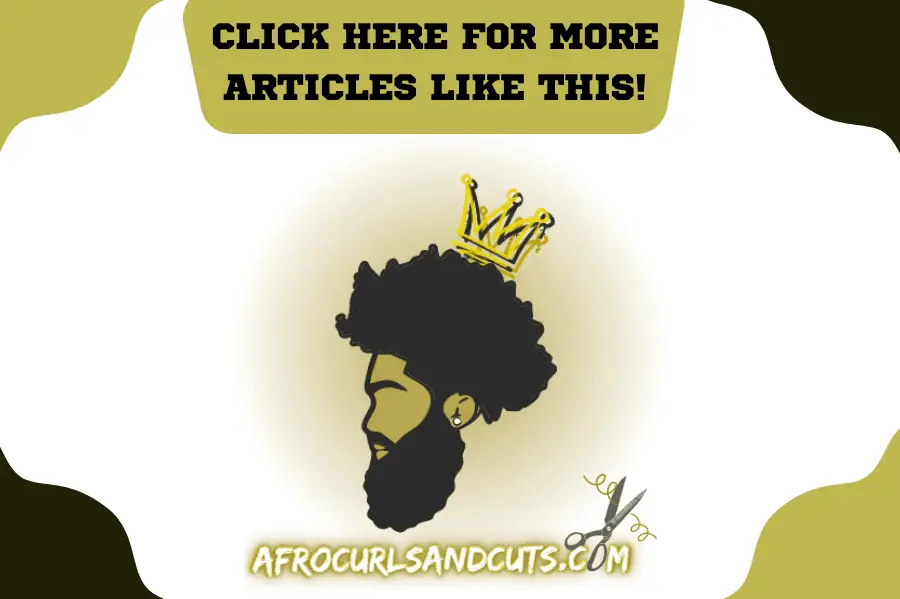 Newsletter
Sign up for Afrocurlsandcuts.com newsletter to be first notified of events, promotions and most importantly fresh blogs articles!